------WENDY------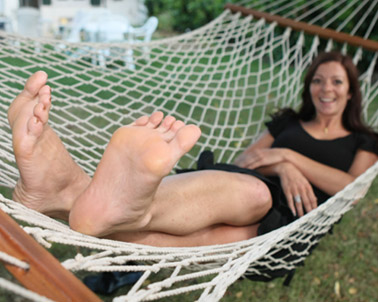 WENDY IS JUST
ONE OF THE MOST TICKLISH GIRL
WE HAVE AT FRENCHICKLING.
She is without a doubt in the top three of the super ticklish model
we have worked with since the beginning of our company
She was 27 years old when we worked with her and
I meet her during the wedding day of a friend.
During this nice day she weared sexy high heels then as you can
imagine my eyes were focused on her so beautiful feet all the day.
Since this day I was really obessed by these feet and
I really wanted to know if they were ticklish or not
then I have contacted her to know if she were interested
by a tickling experience with us.
She was immediately ok with the idea to play games with her feet
and I asked her the question who obessed me for a long time :
Are you ticklish on your feet ?
she answered me directly "Oh yes really, if somebody
touch my feet I laugh immediately but I can't control
myself so you will need to tie me if you want to tickle me!"
And she didn't lie to me.
This girl has some of the most explosive feet I have ever seen.
She is deathly, hysterically, incredibly ticklish!
There is no words to describe her devilish reactions
but touch her feet and you will see this girl become
totally crazy and losing all control of her body in
convulsive explosions of laughter.
Now you're warmed! This girl is uncontrollable when tickled! .